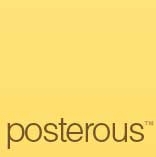 I've been into Posterous lately, for more reason than one.
Posterous is, in their words, the "dead simple place to post everything.  just email us."
Why do I like it?  A few reasons, roughly in order of how important I view each characteristic:
It encourages a more robust content strategy: This is the main reason I like Posterous.  It's all about content, which you know we like.  Here you've added one more outpost to the mix, and it's primarily used to house this content, have people find it, expose people to your brand, bring them back to your brand if you want them to and so on.  The focus is on your valuable material, getting it out there and providing one more place for people to discover it.
Serious SEO juice: I don't know if you've noticed this lately, but I've been seeing posterous.com posts pop up pretty high in search rankings.  The site has high authority, perhaps higher than your own website, which increases the chances that someone could find your material - and hence, your brand - while searching for something in particular.
Inbound linking opportunities: Because of the added outpost and SEO opportunities, Posterous gives you continuous strong inbound linking opportunities - more direct routes for people to get to your website.  If you're not sure of the power of inbound linking, check out the HubSpot blog.
It's not all about your material: Posterous not only offers another outpost for your own content, but you're able to supplement it with outside resources in a way that's more robust than tools like Twitter or Facebook.  While the brevity of Twitter can be useful, the depth of having full articles, or more deeply analyzed thoughts from outside parties also has it's place.  Remember that sharing valuable information from any source with your audience adds to your own credibility as an expert.
Easy to use: You can post from email, your browser, your phone, the Posterous website - you can really post from (physically) anywhere or from almost every device. You can have multiple pages from the same account.  Etc, etc.  It's pretty fool proof.
Measurement and analytics: Yes, you can measure "stuff" on a lot of sites.  But Posterous allows you to use Google Analytics and Feedburner as measurement tools, which  you're likely using on both your website and your blog.  Sure, this may not be entirely unique, but it means you can draw pretty direct relationships between each web presence, and understand how each affects the other…..all in the same language.  That's important and useful, at least to me.
You don't necessarily need engagement: Posterous isn't necessarily about building a community that will continually engage with your brand.  While those are all benefits built in to it, and of course it's an added benefit, the focus is really on content sharing.
You can involve people in the process: Each page can have multiple contributors that only need to email content to get a post up.  Enough said.
Syndication options:  This should be pretty standard nowadays, but Posterous offers integration with Facebook accounts, Twitter profiles, etc.
How have you found Posterous helpful?
You can connect to Kate and to the Other Side Group on Posterous.