Yesterday I found myself in a Twitter discussion with Ari Herzog (@ariherzog) that was getting confusing (due to 140-character soundbites…) and, on Ari's good advice, needed further off-Twitter explanation.  So I thought I'd take the opportunity to expand on the discussion.
To start you out, our back-and-forth is below (read from bottom to top, they're reverse chronological order):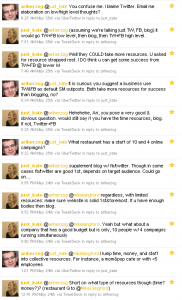 First thing's first.  If you're a regular reader of this blog, you know how strongly I feel about strategy.  So hopefully it goes without saying that any social media marketing program should start with figuring out your goals, deciding what success means, allocating resources…. Yadda yadda yadda.  But I do think there are different levels of "success" that can be achieved, using the same tools, with both being worthwhile.
In the above case, we're talking about a restaurant, and the first assumption I made was that it had nothing in the way of a social media presence to start.  Ari asked where efforts should be focused when resources are sparse: Twitter, Facebook or blogging.
The first thing I say to anyone thinking about this is that, in most cases, make sure you have a website first.  Call me old school, but I still think that, in general, you'll get more bang for your buck if you can direct all your efforts back to one central place that you have complete control over.  Yes, there are some companies with sophisticated marketing teams that could pull of a less website-centric campaign, but they're usually the ones with big marketing dollars and expertise, and were likely early adapters of social marketing (or brought an early adapter onto the team).  [I don't want to belabor this point, as it's only a pretext to the discussion Ari and I were having.]
So, let's say there's a website that's had a reasonable level of resources put into it.  It's solid enough (hopefully it's really solid, of course).  What then?  Do we start tweeting?  Facebook? Blogging?
The second assumption I made was that this restaurant was going to mostly be resource-challenged in terms of time (I know how busy restaurants can be, and the staff is there primarily to cook, wait tables, work the floor, etc…. not necessarily market.  Twitter, Facebook, and adding a blog to your existing website are free in terms of money resources.).  So my following recommendations were time-based.
And so, I've put them in the order of "least time commitment" to "more/most time commitment" (remember, this is only a simple breakdown). These all assume a predetermined strategy process, and communication of that process throughout the restaurant.
Create Awareness and Touch People option: Referred to above as "low level."  All you have is a website, and you're not online anywhere else in a place that you control (that means third-party reviews or things like Yelp and Urban Spoon don't count).  You also have maybe an hour a day you can give, but it's  scattered and inconsistent (Let's say you think you have two people that can each give 30 minutes a day during the slow 2-3pm afternoon time before the dinner crowd comes in, or maybe one can give 15 minutes at around 11am, and another 15 minutes around 4pm, and the computer is at the hostess stand.)  You can still get leverage from, say, a combination of Twitter and Facebook, even when your time is limited.  Monitor Twitter for mentions of your restaurant, or search for hungry people in the area.  Promote your Facebook page to locals and grow your audience.  Start conversations about food in general, engage people over a mutual interest ("I see you had oysters today for lunch.  Were they Wellfleet or Maine?").  You can even do a low level promotion with that amount of time – "Free appetizer with lunch today for our Twitter followers."  Getting your name out there, making more connections… it's not a bad way to start out.
Add Depth and Bring People to You option:  Yup, it's a blog.  A blog takes more time and focus than a low-level Twitter/Facebook strategy.  It sounds easy to knock off three posts a week, but it's not if you want to be effective (one of the big problems people get into with blogging is they're conception of the time-commitment is way off, and soon they're overwhelmed).  If you can develop a coherent idea of what you blog content will include, if you can dedicate one, even two people, to blog each week (you need a firm commitment from them), if you can develop a calendar, and if you can put in place a promotional strategy (you can't just have it sit there, or it's not doing a whole lot for you!), then you may be a good candidate for a blogging program.  This will get people directly to your website (you have to work this aspect into your plan), which will benefit from the SEO juices of blogging, and adds a layer (or two) of depth to the content you're bringing to your audience that hopefully they find valuable.  Talk about how to craft the best BLT ever right in your own kitchen (remember, blogs aren't for selling your menu, it's about offering value).  How about the top five etiquette rules to remember when you're having dinner with your mother-in-law.
Get 'Em Where – and When, and Why – It Counts option:  Here's where you combine all three tools, or maybe just choose Twitter and Facebook, and you really put some focused dedicated effort into the channels, ideally in the form of larger campaigns.  This is what I called the "high level" Facebook and Twitter strategy.  Again, this takes a lot of time, focus and organization to achieve, especially when you can't just sit back and push out content to your listeners.  You need to be able to react.  You may need to monitor multiple social media channels, and respond to your audience.  You'll have to have coordination between the social media aspects of the campaign and the on-the-ground aspects (you're getting people into your door for some specific reason… well, what happens when they do get in the door?).  Your interaction level on your outposts - Twitter and Facebook -  is much higher than option 1, and because it's ongoing and requires a lot of thinking on your feet, and it's also probably more resource consuming than blogging.  All-in-all, a sophisticated and aggressive social media campaign using Twitter and Facebook requires many more resources than just trying "get your name out there."  How about a contest that gives a free meal to the person who gets the most votes for a summer drink?  How about a user-generated campaign on Facebook to teach cooking skills?
My conclusion is that, yes, you can still get leverage out of Twitter and Facebook with a low-level of time commitment if that's all you have.  It still needs to have a strategy and an execution plan behind it, but if you only have ten 5-minute spurts of time to devote to it each day – which seems reasonable for a restaurant – then maximize those 5-minute spurts and keep up with Twitter and Facebook.  If you can get one straight, uninterrupted hour of time three days a week, even better, write a blog post…. And you see where I'm going with this….