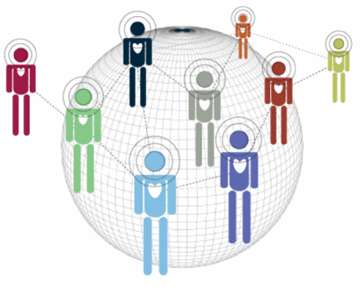 I just came across an old post I had starred from last May, "Macro Trends to Watch" from Edelman Digital.  I had sent the post to myself with a note that said "Social CRM -> Personal CRM."
I'm so happy I came across this - it fits perfectly into what we've been talking about with the rise of the person-brands.  Edelman highlights the rise of Social CRM tools, primarily in enterprise settings.
But it was the diagram (left) for the overall post that sparked the thought of Personal Relationship Management (PRM) in the first place. We're seeing importance placed on individual brands (internal or external) as representations of organizations, as a place where consumer trust is now being shifted to.
As this happens, Relationship Management tools will be equally as important for these individuals as they are for the enterprise as a whole.
While they may not need to be as robust, nor will they necessarily be measuring the same things, they will surface as an effective way to manage and improve the relationships with consumers in much the same way that Social CRM systems are doing so.
Related articles